Musicians
JUNUN - Madness of Love

'Junun' is now screening for the first time in Japan !

In 2015 - a Documentary film 'Junun', directed by Paul Thomas Anderson, has premiered at the New York Film Festival and released on video on demand through MUBI (which is one of Jonny's favourite film streaming service!) It caused a buzz among music lovers as a very unique documentary and also latest Jonny's work, whose performance is expected for over 3 years since 2012.
Junun was filmed at the Mehrangarh Fort in Rajasthan in India in February 2015, about the making of an album called same title by Shye Ben Tzur, featuring Jonny Greenwood as a producer/musician, and Nigel Godrich (Radiohead's producer),who recorded,mixed,and engineered the record.
Jonny is wellknown as a long-standing music partner for PTA's film since 2007 (There Will Be Blood). When director heard that Jonny would join the recording in India with Rajasthan traditional musicians, he willingly decided to accompany with, to shoot them.
The location is nothing but the castle - the Mehrangarh Fort in Jodhpur city, northwest india. The film captures the essential features of music...Musicians who were blessed with a distinctive taste personality are gathered in a cavernous chamber in the castle to record their performance. In the special studio, musicians make songs with keeping the beat, making harmonize and spinning the sound into one phase...
Music! from 'No toilet, no shower but full power 24 hours' musicians who have the bottomless energy...They are the music! and, Overwhelming images! every moment grabbed by PTA.
so please note that it's Attractive/Addictive music. Songs round and round around in your head…and hum unconsciously anywhere.
At last, the time has come when we can realize PTA's word 'Play it Loud!' in Japan! Enjoy!

*Music album "JUNUN" is released from NONESUCH records in November 2015. All songs are written by Shye Ben Tzur. Jonny joined in as a producer, playing guitar/bass/drum machine and etc etc. And also Nigel Godrich, our favourite & a familiar producer for Radiohead, joined as a producer.

JUNUN :
2015/USA/Hebrew,English/54mins/DCP
Director:Paul Thomas Anderson
Music:Shye Ben Tzur, Jonny Greenwood and the Rajasthan Express (NONESUCH)


Exclusive!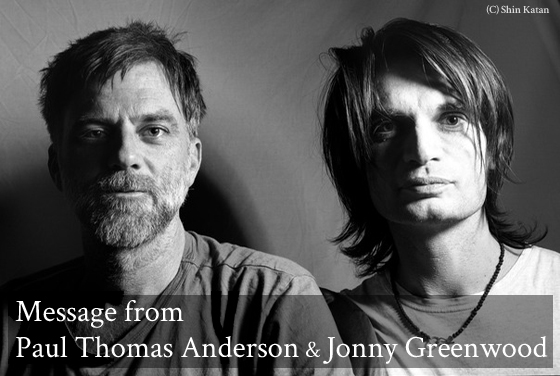 " Junun!
Well, it's one of the great memories of my life so far.
India, Jonny, Nigel,Sam, Shye + ALL THE PLAYERS…..
It's handmade + homegrown + it's a nice feeling to show + share it.
PAUL
Thank you for showing it !!!! :)"


" Junun!
Thank you for showing our film.
I miss India all the time. The songs are all about god - it's a new world for me, musically and spiritually -
please enjoy it!
Jonny Greenwood "

※original handwritten message from Jonny will be displayed at the cinema.





"The work on Junun was a creative work at its best for me. A group of inspired musicians and artists spending time at the Jodpur fort for nearly a month. Each one bringing in his own imagination, personality and skill. Defiantly one of the best experiences of my life!
- Shye Ben Tzur"


--------------------------------------------
My wish to screen this film at the cinema in Japan would not be realised if it were not for its director, Paul Thomas Anderson and Ghoulardi Film Company.
I had been dreaming to see it in a big screen with cinema sound ever since I first saw it on MUBI in last October, and I even contacted MUBI which was ended up with unsuccessful attempt.

Turning point was in March this year, I went to London to see Jonny, Shye Ben Tzur and the Rajasthan Express concert where I had a chance to meet and talk to Paul Thomas Anderson himself.
When the film was presented to the public on MUBI last year, I held the home screening party with my friends. I uploaded some photos of its party on Twitter, there were great reaction...Jonny retweeted, MUBI took up....and apparently, Paul have also seen them.
"Oh, is that you,..you made that cake!? It's nice to see you!!" Encouraged by his word, I managed to negotiate with him for the screeing in Japan. And then talked to the production company…and finally, with cooperation by Meguro Cinema, this happens in reality.

Thanks to the director and his colleagues who provided data for DCP, we can take advantage of Cinema-Quality visions and sounds. In addition, they kindly provided 35mm film of the latest Radiohead PV, Daydreaming. I cannot thank enough.

And an artist and the photographer, Shin Katan, who took the fantastic photos of the recording scene as you'd see in this documentary. She kindly allowed me to use her photos on the website and the poster/flyer. I am so grateful to your generosity.

And lastly, Jonny who provided a link to such a great opportunity. Thank you ever so much.


- Yasuko.O June,2016 (big-boots.com / thomthomthom.com)
Cinema



adult ¥1,500 / student ¥1,200
for more options,please visit MEGURO CINEMA website

Screening Schedule:
●『JUNUN』+『Daydreaming』
11:00/15:00/19:00/20:15/21:30
※『JUNUN』+『Daydreaming』have special screenings called "Play it Loud" 3times per day(after 19.00). we play the both with loud sounds. enjoy!

●『Inherent Vice』(R15+)
12:15/16:15
Tickets are available at the entrance.
no advance sale for tickets.

3mins walk from Meguro st.
B1F Meguro nishiguchi building 2-24-15 kamiosaki shinagawa Tokyo
TEL:03-3491-2557 Meguro Cinema